Dr. Naïla Even 2016-
Naïla is the Lizard Lab's lab manager and a postdoc to boot. She wears a lot of different hats! Her main job is to drive the brain work we are doing on social lizards in the Egernia group. Naïla did her PhD in Andy Barron's lab at Macquarie, on honeybees. She has a background in neurobiology.
Take a look at Naïla's published work on ResearchGate. Naila also has a Google Scholar page.
Take a look at what Naïla is reading!
Dr. Sergio Naretto (July-December 2017)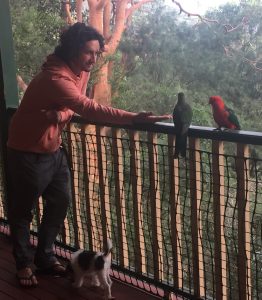 Sergio is a visiting postdoc from the National University of Córdoba, Argentina where he is in the Department of Ecology and Biodiversity. Sergio is funded by an Endeavour postdoc. Sergio visited the lab for a 6-month stint during August 2016-February 2017. He has been working on UV-signalling in blue-tongue skinks and working building a bluey robot with Will Bailes, an engineering student at Macquarie.
Find out more about Sergio's work on his ResearchGate page.