Hot off the press: our new paper just out in Behavioral Ecology and Sociobiology reports on a link between relatedness in Eastern Water Dragons and their anti-predator behaviour–whether or not they decide to fight or flee from a predator. We  found that larger hatchling lizards were more likely to flee while smaller ones were more likely to fight. Interestingly, both body size and antipredator behavior were more similar between clutch-mates (siblings), suggesting that both of these traits are heritable and may have a family origin.

This study involved collected hundreds of water dragon eggs from across Sydney and incubating them in the lab. After they hatched, I simulated an 'attack' using a 1-m long rubber model of a Red-bellied Blacksnake, and recorded how the lizards responded to this threat immediately after hatching; armed with nothing more than their DNA and the instinctive behavior pre-programmed within it.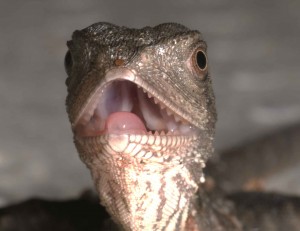 Here is the significance statement from our paper, which nicely sums up the study and our findings:
The action an animal takes in response to a predator is a life or death decision, and can be required immediately after birth. These innate antipredator behaviours may be genetically linked, and enable individuals to emerge into their environment with the necessary behaviour to promote survival.We examined what factors drive hatchling lizards to exhibit different innate antipredator behaviour. Our study found that body size affected their innate behaviour: larger hatchlings were more prone to flee and smaller hatchlings were more likely to fight. Interestingly, parental genetics and phenotype (clutch effects) also significantly explained the variation in innate antipredator behaviour, which supports the hypothesis that these behaviours are heritable. Understanding what drives variation is a cornerstone of evolutionary biology, and our findings raise questions about how selection acts on antipredator behaviour and the degree to which they are plastic.
Read a copy of the paper here.
Baxter-Gilbert, J., Riley, J. L., & Whiting, M. J. (2018). Runners and fighters: clutch effects and body size drive innate antipredator behaviour in hatchling lizards. Behavioral Ecology and Sociobiology, 72(6), 97.