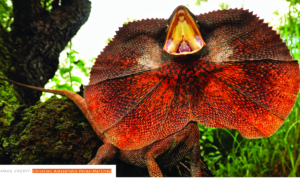 The latest edition of Australian Geographic features the iconic Australian Frill-necked Lizard (Chlamydosaurus kingii). A big part of the article, written by John Pickrell, features our own Christian Alessandro Perez-Martinez! And the top of the page features his photo (reproduced at left). Well done Christian! Have a read of the article.
The paper, written by Christian, Martin and Julia is 98% done and will be submitted shortly! Keep an eye on this space.
Check out Christian's very cool video!
Frilled lizard display behaviour from The Lizard Lab on Vimeo.